We understand that life onboard our ships is what makes your PONANT cruise experience special.
Whether you choose a Mediterranean cruise or an expedition journey to the heart of icy Antarctica, you can be sure of exceptional comfort on board our ships. Our tailored and attentive service will make you feel like you're travelling on a private yacht.
Leisure and wellbeing
Enjoy a moment of tranquility at the spa or by the pool, work-out in the gym or take in a theatre show with your travel companions. Our ships have a variety of sublimely comfortable spaces to ensure your relaxation and share your experience with others to enhance your journey.
Discover
Fine cuisine
The French 'art of living' is always present onboard, even on the other side of the world. The varied French-inspired menu is crafted to the highest standards, cooked by our chefs using superior quality ingredients and presented beautifully, dazzling your tastebuds throughout the cruise.
Find out more
A social atmosphere
Enjoy the sophisticated ambiance of the many beautiful spaces on board. Attention to detail is what we do best, with each area being considerately and tastefully decorated. You're invited to enjoy your journey with other passengers or relax in total tranquility if you'd prefer to keep to yourself.
Discover
Luxury takes many forms
Our aim is to offer you a bespoke cruise, so every day we strive to offer you first class, intuitive service. Our staff are attentive and experienced, ensuring your comfort and are responsive to all requests, whether it's in your stateroom, lounges or in our various dining areas.
Discover
A typical day onboard
From morning to night, on board the ship or out and about on an excursion, discover what a day with PONANT might look like.



Morning




Midday




Afternoon




Tea time




Evening
See more
Excursions
We know that excursions ashore to discover the fascinating locations we visit are central to your cruise experience. All our excursions are planned, tested and approved by our team of experts, providing moments that will enrich your cruise and make your trip unique.
Find out more
Health and safety
On land or on board, your safety is our main concern. This means we uphold strict safety measures, with doctors and nurses present on all our ships.
Find out more
Crews
Whether it's the Hospitality or Expedition teams, meet the the staff who will accompany you throughout your cruise - dedicated experts ready to make your cruise one to remember.
Discover
Leisure and wellbeing
Our ships* have a number of spaces designed to offer guests much needed moments of relaxation and comfort..
Leisure and wellness
A cruise is a holiday after all, so it's the perfect time to pamper yourself - our ships offer special areas dedicated to wellness and relaxation.
Leisure area
Dedicated to leisure and relaxation, the libraries onboard all our ships stock a range of books and board games. This space is also equipped with Wi-Fi and computers.
The Sisterships and The PONANT Explorers have a special area for children onboard known as the Kids Club. Books, television, board games and consoles (PS4 or Wii™) are all provided to keep younger guests entertained.
The pool
he outdoor areas on our ships, comfortable and conducive to relaxation, have been designed to merge into the sublime scenery and surroundings of the sea and horizon. There is a heated seawater pool featuring its own sun lounge on the top deck of our Sisterships (Le Boréal, L'Austral, Le Soléal and Le Lyrial), on the third deck of the PONANT EXPLORERS (Le Lapérouse, Le Champlain, Le Bougainville, Le Dumont-D'Urville, Le Jacques Cartier and Le Bellot) and on deck 8 of Le Paul Gauguin. On Le Commandant Charcot, you can enjoy the Blue Lagoon on deck 9 and on Le Ponant, a solarium and a jacuzzi on the 400 m² (4,300 ft²) Sun deck.
The theatre
Sit back and be entertained onboard, with a range of different shows, concerts and performances organised by the professional dancers and musicians who join us at sea. Special musical evenings, dance evenings and culture and music quizzes are held in the Grand Salon lounge onboard Le Ponant. Traditional local music concerts, featuring styles such as Corsican polyphony and Caribbean steel band music, are also performed out on deck in the open air by bands specially invited onboard to share their culture with you.
PONANT Studio
A photography and videography team escort you throughout your trip. These professionals capture the most beautiful moments of your cruise, which you can share with family and friends upon your return.*
* As Le Ponant is laid out differently due to its smaller size, it may not have all facilities mentioned.
Gastronomy
We'll always be a French company at heart, so we're passionate about spreading the French way of life around the world. Anyone who has come into contact with France will know fine cuisine and gastronomy are central to French culture. Our talented chefs craft high-end menus so you can enjoy the delights of French-inspired cuisine. They share their passion for premium produce with passengers, enriched with the inspiring flavours from the stopovers that we make.
We are committed to sustainable and responsible tourism practices, so we source our food directly from the places we visit, while ensuring to respect the local resources.
The advice and expertise of Ducasse Conseil
In January 2016, PONANT announced we had joined forces with Ducasse Conseil, a catering centre of excellence run by Alain Ducasse Entreprise, to take our already beautiful food to the next level. From the conception of the culinary offering to the training of the company's Chefs, this long-term project aims to ensure that PONANT's culinary standards are as high as possible and to satisfy the unique requirements and tastes of our passengers.
On the menu...
Experience new taste sensations every day. Our chefs transform every meal into a feast for the eyes and the tastebuds.

Appetisers
Cep and chestnut velouté

Starters
Lobster, celery "rémoulade", truffle jus

Main course
Langoustines with pepper, tender fennels, light broth Beef Rossini, Anna potatoes and candied shallots, sauce Périgueux

Dessert
Ponant Sails chocolate tart

Sample menu only, menus change regularly onboard.
On board Le Ponant
It's at Le Diamant, a panoramic restaurant serving delicate cuisine featuring the flavours of the sea accented by ingredients from the coastal areas sailed to and visited, that you'll have the pleasure of dining on board Le Ponant.
Special diets
We care about making sure every guest enjoys their dining experience, so special menus are available on request for guests with specific dietary requirements (low-fat, vegetarian, gluten-free, etc). Please let us know any requirements when booking.
There's nothing like it, even more so with PONANT, where we sail from country to country. We start in Australia, and the following month we are in Japan: of course the dishes are different and the chef carefully selects local produce to showcase the best of the destination to guests
Philippe Tremel
,
Head Chef - PONANT fleet
Read our interview with Philippe Tremel in Escales

Every day, our French baker bakes fresh bread onboard. Organic baguettes, sandwich breads and special breads are available as a buffet option with your breakfasts, lunches and dinners.
A social atmosphere
The common areas on board have been designed to make every moment something special. While they have been laid out to allow you to enjoy the company of other passengers and team members throughout the day, they still retain their private nature for when you just feel like curling up with a good book.
Lounges and bars
The various different lounges allow passengers to meet up and share quality time together.
The main lounge is the ideal place to relax with a drink and enjoy the various activities that have been organised such as dancing classes or themed evenings.
The cosy piano bar is a panorama lounge with breathtaking views of the horizon.
The outside bar is a great space for relaxing and is ideal for accessing the swimming pool* and deck.
The Theatre
The Theatre* is the most unique common space on board. It's the largest room on the ship and regularly accommodates all passengers together. It plays host to shows and entertainment as well as lectures and talks from our experts, naturalist guides and guests of honour. When it comes to memorable events and moments onboard, The Theatre is bound to feature in your cruise memories.
On-board events

Performers join us onboard every cruise. Recruited in Paris and Rome for their talent, their regular after-dinner shows at the Theatre are the perfect way to end the night. Throughout your voyage, they host the various entertainment events in the Grand Salon, with the support of our on-board musicians.

During Tea Time or before dinner, our musical duos consisting of a singer and an accompanying musician play classical arrangements from an extensive repertoire for your enjoyment. In the evening, watch them in concert at the Theatre or show off your dance moves. Dance evenings are co-led by performance dancers who know just how to keep you in step, under the direction of the Cruise Director.

There's plenty of themed entertainment to enjoy in the evenings. Both a soirée blanche (all-white party) and an officers' evening are held on all long cruises. Other types of parties or evening events may also be on the programme, such as karaoke nights, casino parties or games evenings.

Films are regularly shown at the Theatre on large screens. National Geographic features, documentaries related to our expedition route and feature films contribute to the cultural enrichment that is part of our cruise philosophy.
Shop
On board all our ships, a boutique is open during sailing. It offers a selection of gifts, souvenirs and necessities: clothing, jewellery, beauty products, postcards and accessories.
Excursion reception and office
On board the sisterships (Le Boreal, L'Austral, Le Soléal and Le Lyrial) and PONANT EXPLORERS, the reception desk and the excursion desk are arranged side by side to take care of any requests.

Reception: our receptionists are available to help 24 hours a day on all our ships (from 7 a.m. to 11 p.m. on Le Ponant). Contact them for any request such as room service, etc.

The excursion office: the excursion team is available at all times to give you information about the onshore programmes, organise group or private excursions and to manage transfers at the start or end of the cruise.
On Le Ponant, the receptionists will be able to help with all excursion enquiries.
The Blue Eye
Every ship** in the PONANT EXPLORERS series feature the Blue Eye. Located in the hull, below the waterline, this unique multi-sensory lounge unique to PONANT cruises, plunges you into the heart of underwater life. With digital screens, hydrophones and Body Listening sofas, you can experience the feeling of being one with the marine realm.
Accessible to all passengers and equipped with a bar, the Blue Eye is an exceptional place to share a drink in a unique atmosphere.

Solo travellers
Whether you're enjoying a cruise in peace or to get to know other passengers, our ships are designed to accommodate your needs.
At the restaurant, our head waiter will sit you at a table with other guests and introduce you so you can share your meals in a friendly atmosphere. Our English-speaking crew members always make themselves available, attentive and approachable.

I recently went on a solo cruise in Patagonia. The atmosphere was very friendly [...] All sorts of activities were on offer where you could alternate learning or cultural sessions with rest times if you wanted to. Personally, I never got bored. Doesn't matter whether you're male or female, I would go for it. It's an adventure where you'll make some amazing memories

*As Le Ponant has a different layout due to its smaller size, it cannot accommodate certain equipment.
** Le Lapérouse, Le Champlain, Le Bougainville, Le Dumont-D'Urville, Le Jacques Cartier and Le Bellot.
A typical day on board
Our cruises combine exploration with elegance, offering exceptional luxury services, whether it's on board our ships or during your excursions or outings and landings. Enjoy a refined atmosphere throughout the day which complements the exotic nature of the programmes on land.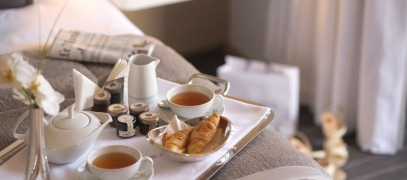 Breakfast
Kick start your day the right way.
- Hot drinks and pastries are served from 6:30 to 10:30 for early risers and late risers.
- Enjoy your breakfast in the cabin with room service, in the restaurant or outside if weather permits
- Enjoy Lenôtre pastries cooked on board, bread made daily by our French baker, home-made cakes and muffins, pancakes, waffles, eggs, cheeses and cold cuts, detox juices, and more.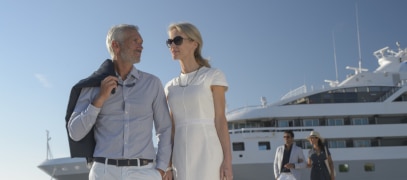 Departure alert for excursions or trips
We always want your activities to run smoothly, so your cruise director will alert you before departure for any excursions you have booked if you are on a Yachting cruise, or for Zodiac® trips, if you have opted for an Expedition cruise.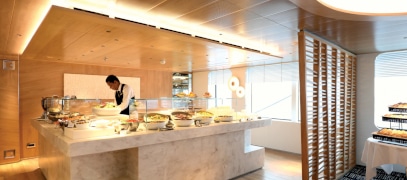 Lunch
On board, enjoy our varied buffet. Among the wide choice of salads, vegetables, meat and fish, desserts and pastries, choose a starter, a main dish and a dessert that have been specially prepared based on the theme of the day (Corsica, Mediterranean, Asian, barbecue, Italian, etc.)
A restaurant on land is booked for day trips.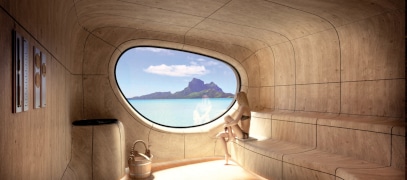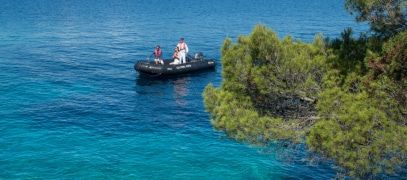 Zodiac® excursions or trips
Your afternoon continues with land excursions to complement your Yachting cruise.
On Expedition cruises, enjoy included guided excursions with our naturalist guides and discover fascinating new lands.

An afternoon snack
- Around 4 p.m., after having enjoyed a few sweet treats with cold or hot drinks accompanied by music in the Grand salon, it's time to get ready for dinner. Our Hairdresser Advisors will offer you personalised services in the Hairdressing Salon.
- Enjoy the peace and quiet of your cabin to watch one of the 60 movies available in multiple languages ​​on your TV, book a tour through the app or bury your head in a book on your private balcony.
- Browse the boutique or stroll through the ship's various social spaces, in the observatory lounge (on the PONANT EXPLORERS and Le Ponant), the panoramic lounge (on the Sisterships) or the Blue Eye on the PONANT EXPLORERS, with a glass of champagne or a delicious cocktail in hand.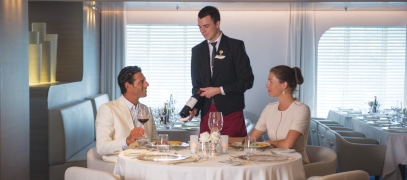 A gourmet dinner
Your late afternoon continues with a picturesque sunset accompanied by beautiful melodies played on the piano, plus an aperitif of course. Why not try a new cocktail from our menu each day? Dinner is up next, prepared by our chefs in keeping with the tradition of French fine dining.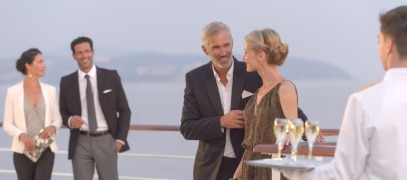 An evening of entertainment
Continue your evening with entertainment in the Grand Salon or the Theatre. Enjoy a night of dancing, a classical concert, a show by our professional dancers or a film on the big screen.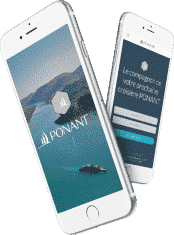 The PONANT App
After booking your cruise, download the PONANT app from the Apple Store or Google Play. It's been designed to be your companion throughout your voyage. Before your cruise, there's lots of helpful information about how to pack your bag, the structure of the team on board and excursion pre-booking etc. During your trip, enjoy daily highlights of your cruise, make an appointment at the spa, order the cruise photos and book your excursions.
Excursions & land itineraries
Each itinerary has been thoughtfully created by our teams and fantastic excursions planned to the best spots along the way. Discover the hidden gems of the regions we visit, depending on your interests.
Excursions & land itineraries
Hidden coves, ancient cities, UNESCO world heritage sites... the world reveals its hidden gems as you journey along the routes we take. In keeping with our ethos "Accessing the worlds treasures by sea", we offer a wide choice of land excursions during all our cruises (except for expeditions, where a selection of excursions are included). Chosen by our PONANT experts for their cultural value and historic interest, these excursions can last a few hours or a few days. If you need to stay on land overnight, we take care of your stay from start to finish, until you rejoin the ship. These longer excursions mean you can discover the unmissable sites of the region you are visiting, like Cuzco in Peru or the Mekong Delta in Vietnam.
You can join these trips by pre-booking two months before your departure date.
Want to book an excursion?
Before or after your cruise
Before the departure or upon the arrival of your cruise, various pre & post cruise stays are always available. We can also build a bespoke option upon request, made to measure. Paris, the Grand Canyon in Arizona, the Great Pyramids in Egypt... there are so many marvellous sights that might make you want to stay a little longer. Our PONANT teams take care of everything, extending your voyage and ensuring all you have to do is sit back and enjoy, even once your cruise has ended.

A varied choice of leisure activities
We offer a range of excursions based on a variety of themes. You can choose your land activities according to your preferences and must-see list, whether they're cultural or more a physical pursuit.
Choose your excursion from a selection of unmissable sights, cultural or heritage visits, nature and adventure activities, UNESCO sites, culinary discoveries and even our Originals.
Some things are unmissable
A safari in South Africa, kayaking through the heart of the Norwegian fjords or a boat trip in the Caribbean, visiting Pre-Columbian ruins... Whatever the destination of your yacht cruise, we offer enriching excursions and discoveries that are known for their cultural importance, historic significance and beauty.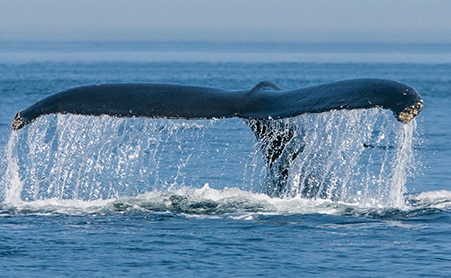 North America and Canada
Whale watching
on a Zodiac®
+
Whale watching on a Zodiac®
Thrills guaranteed with this Zodiac® trip on the Saint-Laurent river. Your captain and nature guide will take you to the mouth of the river, where it meets the ocean. There's no better place to observe these sea giants and other marine mammals.
-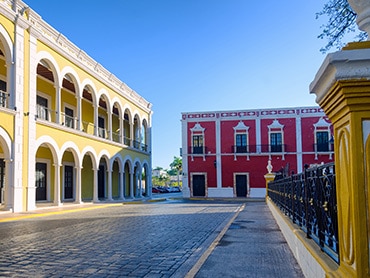 Central America - Mexico
A walking tour
of Colonial Campeche
+
A walking tour of Colonial Campeche
You'll arrive at the large entry gates into Campeche, the only fortified city in Mexico, a UNESCO World Heritage Site. Although Campeche is probably one of the most picturesque colonial town centres in Mexico, it remains overlooked by foreign tourists. You'll finish your trip at the El Palacio museum which traces the history of this ancient Mayan trading port.
-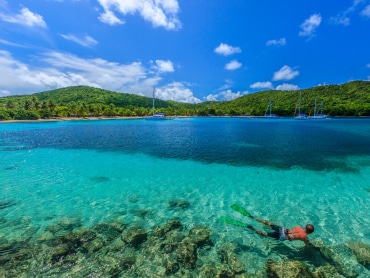 The Caribbean - Guadeloupe
Discovering the Saint Islands
by boat
+
Discovering the Saint Islands by boat
Nestled in a motorboat, you'll set off on a panoramic tour around the Saint Islands, an archipelago made up of nine islands. Discover Marigot bay, a local fisherman's haunt, the little uninhabited island of Grand Islet, a paradise for turtles and marine birds, La Coche and the Pain de Sucre. Enjoy some free time here to swim and snorkel.
-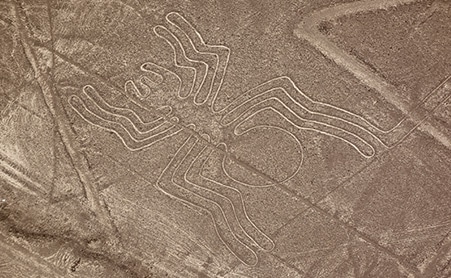 South America - Chile
Arica: city tour
and geoglyphs
+
Arica: city tour and geoglyphs
Found throughout the north of Chile, these geoglyphs are some of the most interesting prehistoric art found among archaeological ruins. They are giant patterns made using stones placed on the ground; from above they represent animals, human figures or geometric shapes, their significance and use is still a mystery. Continue your trip with a walk through the historic centre of Arica, take a moment to admire the San Marco Gothic style cathedral, designed by Gustave Eiffel in the 19th century.
-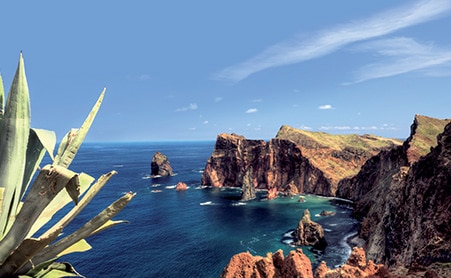 Atlantic coastlines - Madeira
Chai and Blandy vineyards
+
Chai and Blandy vineyards
Explore the Quinta de Santa Luiza - a unique, traditional property which maintains the features of a local farm as they once were in Madeira. It shelters sumptuous floral gardens and hundred year old trees brought back from around the word, plus the vineyard produces Madère de Blandy wine. You'll continue to chai Blandy, where a private guided tour will show you barrel making, canteiro ageing, transforming grapes into Madeira wine and the huge satinwood tanks.
-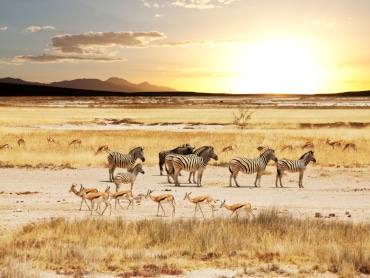 Africa and the Indian ocean - South Africa
Safari in the Pumba reserve
+
Safari in the Pumba reserve
Safari through part of the 6000 hectare private Pumba reserve on board an open-top 4x4 in search of lions, African elephants, giraffes, zebra, buffalo, leopards and rhinos in their natural environment. The reserve is also home to more than 300 species of bird. You'll enjoy a buffet dinner in the heart of the reserve before rejoining your safari to head back to the main entrance.
-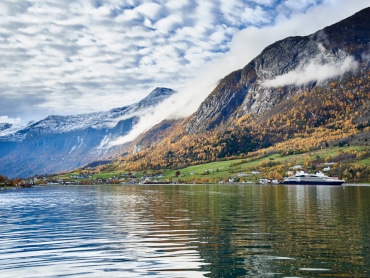 Northern Europe and Scandinavia - Norway
Kayaking in the Nærøyfjord
+
Kayak in the Nærøyfjord
You will set off on your kayak adventure through the spectacular Nærøyfjordm, a UNESCO World Heritage Site surrounded by imposing mountains on all sides. Breathe in the fresh air and drink pure water directly from one of the many waterfalls and rivers that flow into the fjord.
-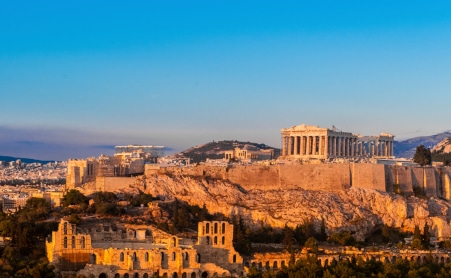 Mediterranean - Greece
Olympia and its museum
+
Olympia and its museum
Explore Olympia, home to the very first edition of the Olympic Games, in the 12th Century BC. An ancient sanctuary at 2800 years old, with each step you'll discover a host of treasures, temples, altars, theatres and marble and bronze statues which once made this place famous. This place has been a UNESCO World Heritage Site since 1989. You'll also visit the Olympia museum, which unites all the discoveries made on the site under one roof.
-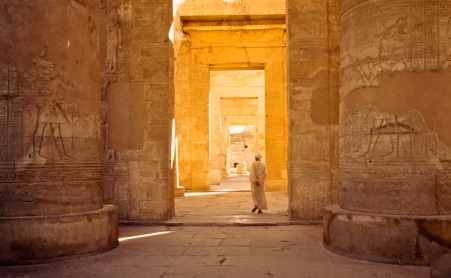 The Red Sea - Egypt
Luxor museum and temples
+
Luxor museum and temples
Discover the Luxor museum and its collections of pottery, jewellery and artefacts from the necropolis and the Theban temples. Then you'll head to the Temple of Karnak, known for its impressive row of sphinxes. This temple was the most important sanctuary in ancient Egypt. Continue to the temple of Luxor, where the obelisk that stands on Place de la Concorde in Paris comes from - it was gifted to Louis Phillippe in 1831 by Muhammad Ali Pasha, Ruler of Ottoman Egypt.
-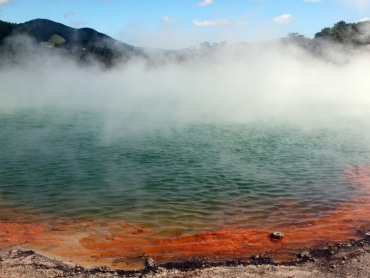 Oceania - New Zealand
The incredible thermal springs
at Rotorua
+
The incredible thermal springs at Rotorua
Take in the incredible thermal springs of Wai-O-Tapu, nestled in the bushland, created through millions of years of volcanic activity. Marvel at the brightly coloured "Champagne pool", enormous volcanic craters, Te Puia and the famous geyser, and spectacular steam jets.
-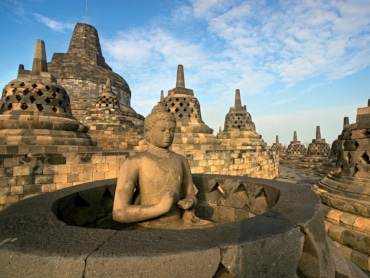 Asia - Indonesia
The wonders of Borobudur
+
The wonders of Borobudur
Visit the incredible site of Borobudur, a UNESCO World Heritage Site and the largest Buddhist monument in the world. Built between 778 and 866 using over 55,000 square metres of stone, this monumental project was mysteriously abandoned. A significant eruption of the volcano of Mount Merpai nearby covered almost the entire site and it was only rediscovered in 1814.
-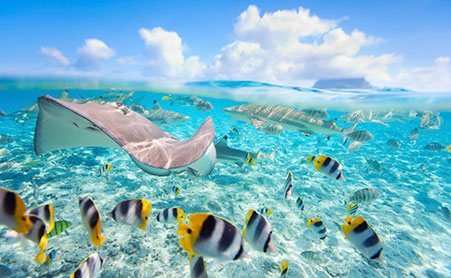 Pacific Islands – Bora Bora
Shark and stingray encounter
+
Shark and stingray encounter
Embark on a trip along the coast of the famous Motu Tapu island and on to the former crater of Motu Toopua. Your boat will stop at a white sandbank in the middle of the area frequented by majestic stingrays. You'll be able to watch and admire them swimming all around you in an elegant aquatic ballet as your guide feeds them by hand. Harmless blacktip reef sharks often visit these waters and can be seen swimming amongst the stingrays.
-
Luxury service
Whatever your tastes, our attentive and professional staff are at your service to ensure your cruise will be one to remember. Even in the most extreme of climates, you can be sure of supreme comfort and exceptional service which are the hallmark of our cruises.
The French way of life
We want to make sure the French way of life makes its way across the world's oceans. We strive for excellence and therefore associate with partners who share the same philosophy.

When it comes to gastronomy, indulge in a sweet snack with Ladurée macaroons, taste Lenôtre's selection of bread, baguettes and Viennese bread or clink glasses of Charles Heidsieck or Veuve Clicquot champagne at gala dinners. Hermès bath products are provided in cabins while Fragonard room scents diffuse a pleasant fragrance throughout the ship.
Butler service
Our butler service is available for passengers travelling in one of the suites situated on Deck 6 aboard Le Boréal, L'Austral, Le Soléal or Le Lyrial, as well as all the Owner suites, Deluxe Suites, Privilege Suites and the Prestige Suites situated on Deck 6 aboard the PONANT EXPLORERS.
Attentive and discreet, your butler will provide a fully personalised service. Throughout your cruise, don't hesitate to get in touch to make your voyage a carefree one.
Laundry service
There's truly nothing better than a fresh set of clothes each day, so a laundry service* is offered on each of our ships. You'll find laundry pricing, bags and slips inside your stateroom. During your cruise, your steward or stewardess will be available to take care of washing and ironing** your clothing within 48 hours.
*Dry cleaning is not available.
**These are paid-for services and will be directly charged to your stateroom's account.
Room service
Whether you wish to have breakfast in the privacy of your stateroom, savour a snack in the middle of the day or enjoy your dinner in an intimate setting, our Room Service is always available. Taste the gourmet flavours of your destination and treat yourself from a varied menu at any time of the day or night*.
Pillow Menu
All of our staff onboard are there to help ensure your ultimate comfort onboard, down to the smallest details. That's why you can select the pillow that best suits you from our pillow menu.
Open Bar
From the moment you board and throughout your cruise, unlimited drinks are included*, at any time of the day. A drink with friends at the bar, refreshments on your return from an excursion or in the serenity of your Stateroom's balcony: enjoy a large selection of beverages (mineral waters, soft drinks, wines, beer, champagne, spirits, coffee, tea).
 A selection of premium alcoholic drinks are also available à la carte.
*Does not include top shelf premium alcoholic drinks indicated on the Bar Menu. Valid only for individual personal consumption, without limitations.
Free & unlimited Wi-Fi
Whatever your cabin class, all our passengers have access to Wi-Fi free of charge throughout the ship, on all the vessels in our fleet. We use a satellite link to make Wi-Fi available in most of the regions we sail to, even the most isolated.
Postal service
Update family & friends on your travels at any time during your cruise thanks to our onboard postal service. Simply hand your mail to reception who will dispatch it for you*. Postcards are available in the boutique and writing pads and envelopes can be found in your cabin.
*The cost of stamps will be debited from the cabin account.

Special polar cruise service
To make sure your stay in extremely cold climates is comfortable, a polar parka is given to all passengers sailing on a polar cruise.
You can also rent boots for Antarctic and Arctic cruises. Inform your travel consultant of your shoe size before your departure date and the boots will be delivered directly to you onboard.
Health and safety
The safety of our guests and crew has always been our greatest priority. On land as well as at sea, PONANT adheres to strict rules and are subject to regular international inspections.

In order to welcome all our passengers aboard in the best possible conditions, we have set up special health protocols. Our ships* are also equipped with state-of-the-art medical equipment.
Medical questionnaire
When confirming your booking, you'll be sent a medical questionnaire. Once you've completed and returned it, our onboard doctors will review it and make sure any accommodations are made. This precaution makes sure you travel with complete peace of mind, even in remote areas without emergency medical facilities.
Pregnancy
As the ships do not have any facilities to enable women to give birth on board, women who are over six months pregnant won't be permitted to embark our ships. Pregnant women travelling on board a PONANT cruise are always advised to consult a doctor prior to embarkation, in order to ensure they are fit to travel on the planned cruise.
Medical team
A doctor is present aboard all our ships, for the duration of the cruise. A nurse is also available on board (excluding Le Ponant). Consultation times are indicated daily in the logbook (24-hour emergency consultations). The sisterships and the PONANT EXPLORERS have a hospital for any minor surgeries.
Access for people with reduced mobility
All our ships* are equipped with lifts (one at the bow, two at the stern) to make sure everyone can access all spaces.
Access ramps can also be used independently to go to the Theatre, the outdoor bar or the Blue Eye on the PONANT EXPLORERS.
Each vessel* has accessible cabins (three aboard the sisterships and two aboard the PONANT EXPLORERS) to accommodate wheelchair users. These include a ramp for access to the balcony. In order for our teams to make your journey comfortable, we ask travellers with reduced mobility or requiring special assistance to indicate this when booking.
Posters, signage and room numbers are translated into Braille.
Each guest has a lifejacket in their stateroom and near the life rafts.
A demonstration of the procedure for abandoning ship, which is compulsory for all, takes place before the departure of each cruise.
The ships are equipped with every precautionary measure, including automatic fire detection and sprinkler systems, fire doors and watertight doors.
For maximum safety in the polar regions, our ships have specific lifesaving equipment that can withstand extreme external conditions while waiting for assistance in the event of problems.
Inspections and classifications
The fleet is monitored by the Centre de Sécurité des Navires PACA Corse, located in Marseille.
Each ship has ISM (International Safety Management) certification, a very strict international regulation.
Safety equipment is checked and approved on a yearly basis by the French authorities and by Bureau Veritas.
All our ships are graded and are regularly examined in great detail and without prior notice, in ports of call around the world.
PONANT is now the only cruise company to sail under French flag. This accreditation is one of the most rigorous in the world in terms of safety. We are in first place in the 2018 annual ranking of the Mémorandum de Paris (MOU) - a guarantee of maritime safety through the inspection of ships in ports. This agreement ensures, among other things, that vessels respect international maritime conventions.
After passing the entrance test, each officer receives thorough training at the French National Maritime College (ENSM) by alternating periods of training with periods of sailing. Recruited for our ships depending on their successful graduation and their experience, these officers are responsible for operating the ship and supervising the crew.
Training courses on an ice navigation simulator are organised at the ENSM in Marseille. This tool, unique in France, trains young officers to run a very specific bridge and to sail in a polar environment.
The entire crew (sailing, hospitality and entertainment) undergo extensive training enabling them to exercise the roles entrusted to them in the event of an emergency. Various exercises and simulations are regularly held to ensure that everyone is fully capable of responding appropriately.
For cruises in the polar regions, the crew undergo additional training concerning survival and what to do in polar waters.

A tradition of excellence,
professionalism and expertise
With almost 20 years of experience in extreme regions, PONANT is a true Polar Specialist. As the only French cruise company to sail in these realms of ice, PONANT has the ships and the experience to take you to the most remote regions in complete safety; Captains and crew members are seasoned professionals, specially trained to sail in these extreme areas.

Our new generation fleet, the youngest fleet in the world, has the latest technology and modern equipment to ensure your safety and also respect the environment of the regions visited. Our stable and silent ice-certified ships meet the most stringent international standards: 3D seabed visualisation using a dual sonar system, satellite weather station and GPS trackers on the Zodiac® inflatables.
*As Le Ponant has a different layout due to its smaller size, it cannot accommodate certain equipment.
Crew
Whilst on board our ships, the PONANT crew will be on hand to make sure you have a safe journey, as well as provide you with premium on-board services and memorable excursions.
Throughout your cruise, their job will be to exceed your expectations and make your cruise truly unforgettable.
Captain
The Captain is the highest-ranking person on board. Their job is to ensure correct navigation, oversee operations, handle administrative and customs requirements, and ensure the comfort and safety of passengers. In order to do this, they supervise the various members of the deck, engine and hotel departments.
First Officer
This is the Captain's right-hand man, who may stand in for them if necessary. In charge of the deck department, nautical operations and external maintenance, they are also responsible for supervising the ship's officers in undertaking tasks relating to security, navigation, safety and environmental aspects. It is their job to discipline all crew under the authority of the Captain.
Chief Engineer
The Chief Engineer. is the most senior engine officer and is responsible for all of the ship's technical aspects, including operations, maintenance and repairs. This encompasses power generation, propulsion and all additional facilities, such as electricity, kitchens, refrigeration, outboard motors, etc.
Reception and Cruise Manager
The Reception and Cruise Manager is in charge of the reception team and for promoting the sales of cruises aboard. By booking your next cruise on board, you'll get a 5% discount.
Hotel Manager
The Hotel Manager is responsible for ensuring the comfort of passengers on board. To do this, they coordinate all the ship's departments, except the deck, engine and medical departments. The Hotel Manager is therefore responsible for the Cruise Manager, Excursions Manager, Restaurant Manager, Bar Manager, Head Chef, Head Housekeeper and Spa Manager, as well as the Management Controller and Chief Financial Officer.
Cruise Director
The Cruise Director is responsible for organising all aspects of life onboard. They are often there to welcome guests to the theatre, and part of their role, in particular, is to manage the entertainment team, which includes the dancers and musicians. As the person responsible for managing all the entertainment, the cruise director organises the activities that take place in the Grand Salon and also takes part in the various different party/evening events. He is the "voice" of the ship and plays an important and prominent role throughout your voyage experience.
Doctor
There is always a doctor and nurse on board all our cruises. Each day, the surgery times are published in the on-board newspaper and for emergencies, they are also on call 24 hours a day. There is a hospital on board our sister ships and PONANT EXPLORERS, which are equipped to carry out minor surgery. The on-board doctor also goes with passengers on outings and excursions.
Head Chef
The Head Chef coordinates the staff responsible for your breakfast, lunch, afternoon tea and dinner. From pastries and cakes to buffets with an impressive array of options, they will be in charge of all the culinary delights you will sample on board. All our chefs receive special training from Ducasse Conseil, the expert catering division founded by chef Alain Ducasse.
Bar Manager
The Bar Manager is responsible for the barmen and will be waiting to offer you a selection of alcoholic and non-alcoholic cocktails and drinks, from timeless classics to more innovative creations. Discover the cocktail of the day, sip on an apéritif or digestif and enjoy unforgettable moments over a drink.
Head Housekeeper
The Head Housekeeper and their team will change your bedlinen, oversee the laundry service and organise your bedtime ritual. When you retire to your cabin each night, a small pastry will be waiting for you, the curtains will be drawn and your bed will be ready for you to go to sleep.
Excursions Manager
On our Yachting Cruises, the Excursions Manager will help you book land excursions, which can be private or in small groups, as well as manage your flights and transfers. On our Expedition Cruises, the Expedition Manager will provide you with information on outings and visits to shore planned throughout your cruise.
Restaurant Manager
The Restaurant Manager will be your Head Waiter on board. They are responsible for seating passengers, particularly those travelling alone, at the tables in the restaurant at dinner. Their team is made up of a team of waiters and a sommelier.
Spa Manager
Why not pamper yourself? The Spa Manager and their team invite you to relax at the hair salon and spa*. You will not only benefit from their expertise and personalised advice, but also enjoy top-quality treatments, including hair styling and colouring, and massages, to name but a few.
The Petty Officer is an experienced sailor. They are the most senior member of the deck department and are under the authority of the First Officer. They supervise and coordinate a team of sailors in carrying out day-to-day operations and maintenance work.
Passengers who have booked a suite* have access to a butler service. If you opt for this, your butler will provide you with a fully personalised service throughout your cruise.
The Studio PONANT team* will capture all the unforgettable moments of your cruise through photos and videos, including at the Captain's Dinner and during land excursions.
The Shop Manager will talk you through our collection of clothes and souvenirs, as well as the range of accessories on offer. To get a sneak preview, why not have a look at our online shop?
Except aboard Le Ponant
Expedition Cruises
Expedition Managers and naturalist guides are present on board all our Expedition Cruises.
They are specialists in the regions you visit, particularly on their flora and fauna, geological formations, history and culture. Passionate and knowledgeable in their areas of expertise, they are responsible for organising safe visits to shore and outings based on the opportunities and unforeseen circumstances which make up any expedition.
Whilst on board, they will complete your experience by organising talks and other events, and would be delighted to answer all your questions.