5
reasons to visit Antarctica
Antarctica is one of those once-in-a-lifetime destinations - the wildlife, from penguins to seals and whales, and the vast expanses of white that make you feel like you're on another planet. Here are five reasons to go on an Antarctica voyage.
Find out more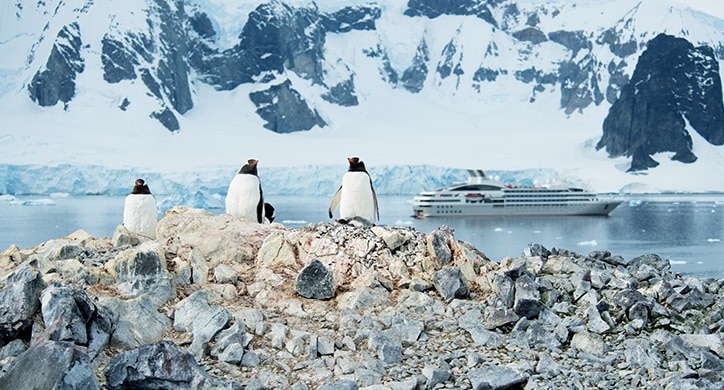 Antarctica's unmissable sights
The White Continent is a dream destination for any explorer at heart, and travellers certainly won't be disappointed when they see it in all its splendour. Here are five highlights to experience during an Antarctic cruise.
Find out more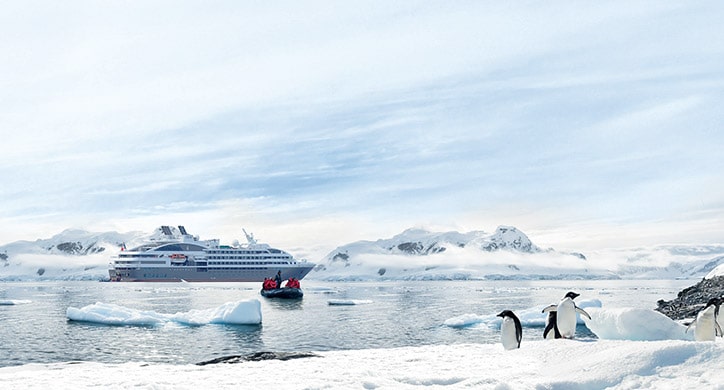 5 reasons to visit Antarctica
A trip to Antarctica is the ultimate travel goal. These ends-of-the-Earth lands are tough to access and offer constant changes in scenery. Here are five reasons to set off on an Antarctic cruise.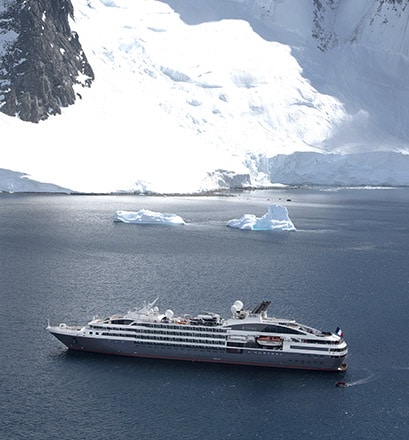 1
Treat yourself to a unique adventure
Far from major tourist routes, Antarctica remains one of the few preserved areas on the planet. Tourism is regulated. Vessels departing for the White Continent do not carry more than 200 passengers at a time. It's an opportunity for everyone to enjoy an extraordinary experience and to create unforgettable memories.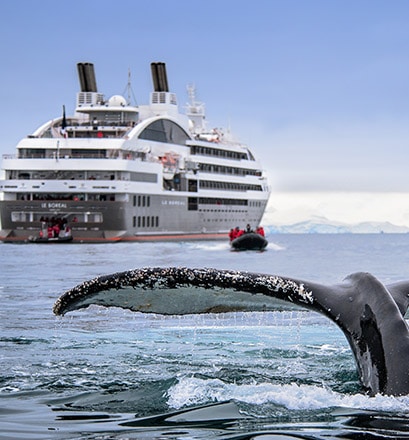 2
Witness exceptional wildlife
A true sanctuary for wildlife, Antarctica is home to a diversity of marine mammals and birds that have come ashore to breed. In the water, Weddell seals, Minke whales, humpback whales, sea leopards, and subantarctic fur seals put on an enchanting show for travellers. Both on the ground and in the air, king penguins, gentoos, southern rockhoppers, and chinstraps, along with albatrosses and petrels, jump and frolic to complete the show.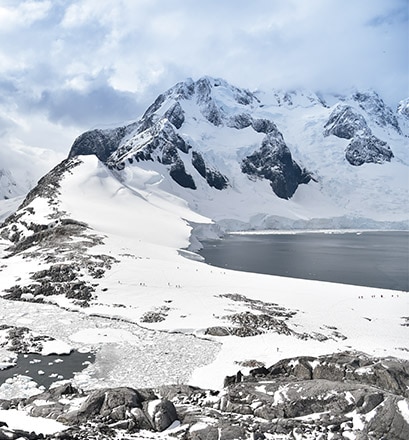 3
Move through incredible scenery
Blue icebergs, sparkling towers of ice, an immaculate ice floe, imposing mountain ranges and thousand-year-old glaciers serve as backdrops to these dreamy views. Here, you'll be dazzled by shades of white, blue, grey, and sometimes purple. Sunsets give the ice a fiery glow. The sheer vastness of the setting and the 'noise' of the elements evoke moments of pure emotion.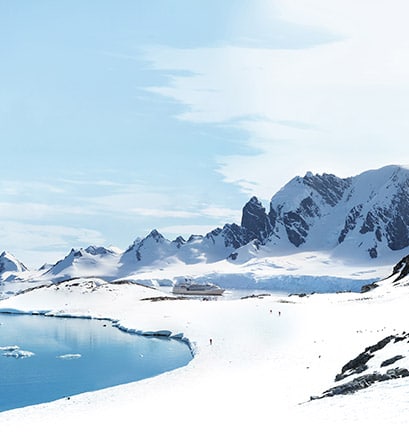 4
Follow in the footsteps of the greatest explorers!
Even if Antarctica remains very enigmatic today, think about what it must have been like more than a century ago. British explorer James Cook ventured there as early as 1773. Adventurers followed in their droves. From Captain Charcot to Sir Ernest Shackleton, or Roald Amundsen, who was the first to reach the South Pole, or, more recently, Paul-Émile Victor, these men have tried to unravel the mysteries of the ice floe.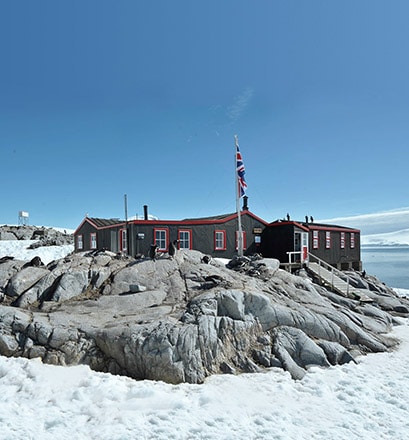 5
Visit historical sites and scientific bases
Even today, the White Continent keeps some of its secrets for itself. Scientific bases have been set up there to carry out research, particularly relating to climate. Former whaling stations, veritable open-air museums, bear witness to the ravages of the seal and whale hunting that took place at the beginning of the 20th century. Port Lockroy is home to the southernmost post office in the world, from which you can send your loved ones a postcard featuring the Antarctic stamp.
As you can see, there are so many reasons to embark on this unique adventure to a continent that's like no other.
Antarctica's unmissable sights
The White Continent is a dream destination for any explorer at heart, and travellers certainly won't be disappointed when they see it in all its splendour. Here are five highlights to experience during an Antarctic cruise.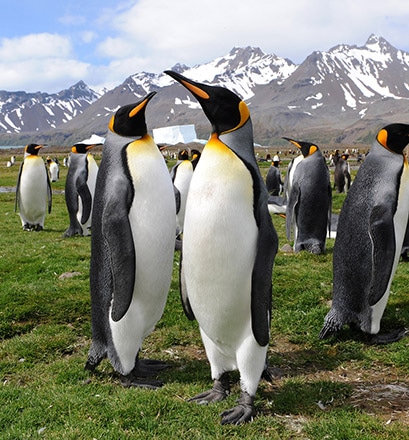 Mingle within a penguin colony in South Georgia
Once a major whaling station, South Georgia is now a favourite spot for many seabirds. Among them, the king penguin is a happy resident. If you're lucky enough to stop off at Salisbury Plain, you'll enjoy a unique experience in the middle of a colony of no fewer than 250,000 penguins. They move around happily without regard for the few human beings who come to visit them. A unique and touching moment.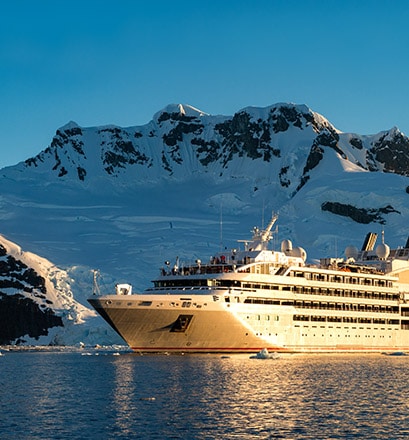 Crossing the Antarctic Circle
What does it mean when the navigational instruments show the fateful numbers '66°33'? You're in the middle of Antarctica, beyond the 66th parallel! First crossed by the British explorer James Cook in 1773, it's an integral part of the history of Antarctica. Travellers will feel a true sense of accomplishment and joy as they follow in the footsteps of the great explorers.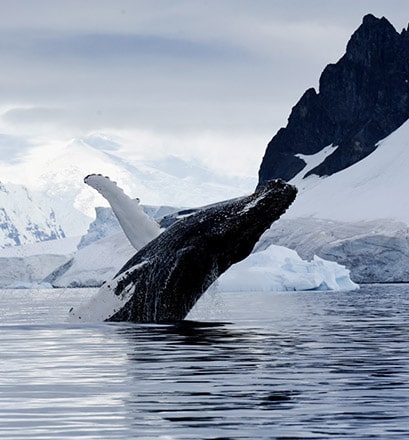 Get up close to a majestic marine fauna
From the Falkland Islands to the Antarctic Peninsula, Antarctic cruises are an opportunity for unforgettable encounters with marine mammals. It's not uncommon to encounter many seals, including subantarctic fur seals and elephant seals, as well as killer whales. When the humpback whales arrive, it truly is the icing on the cake.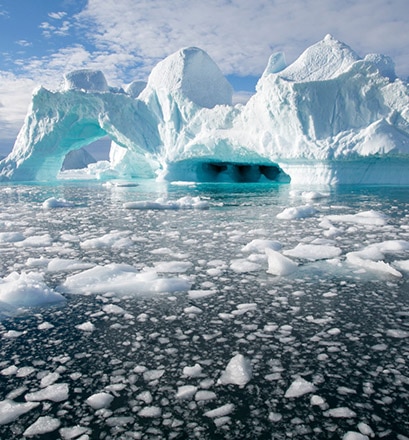 Behold the great icebergs
Be they tabular, blocky or pinnacled, icebergs all have a tendency to leave travellers speechless. These giants of the seas are indescribable! As majestic as they are worrying, their silhouettes rise up with the waves and plunge deep into the waters with a colourful blend of thousand shades of blue, from light turquoise to the darkest navy, all sparkling under the icy sun of Antarctica.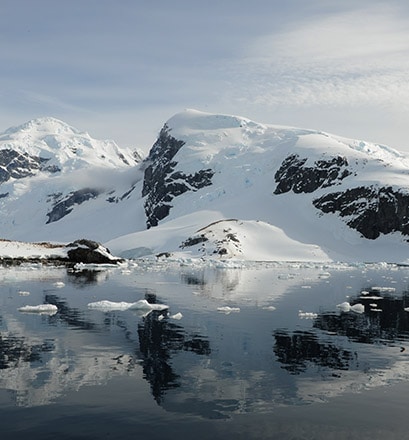 Visit a unique natural sanctuary
Little known and completely preserved, New Zealand's subantarctic islands are among the last remaining areas completely unspoilt by human presence on the planet. Some of these little pieces of land dotted around the ocean are inaccessible and therefore totally protected from human activity. The Snares Islands, Bounty Islands, Antipodes Islands, Auckland Islands and Campbell Islands thus represent an invaluable haven of peace for the endemic species that inhabit them, including 126 bird species.