A dream voyage combining a luxury hotel with Arctic exploration
What would you say to making a stop at the fascinating Le Meurice in the heart of Paris at the start or end of your Arctic journey aboard Le Commandant Charcot, the first electric-hybrid polar exploration cruise ship?
PONANT and the famous Parisian luxury hotel have decided to combine their expertise so you can explore even more new places.
The two have worked together to create a three-night experience whose many delights will awaken your senses and introduce you to amazing cultural destinations.
3 nights in a luxury hotel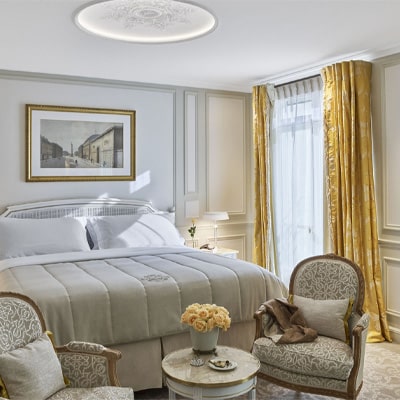 Le Meurice is a captivating five-star destination in the heart of Paris which has been shaped over time by the artists who have stayed and found inspiration there, from Dalí and Zola to Warhol and Dylan. Take a delicious moment away from it all and enjoy all the comforts of a luxury hotel imbued with both peaceful elegance and creative power. It constitutes a living art gallery in the true sense of the term.
A parisian getaway and french luxury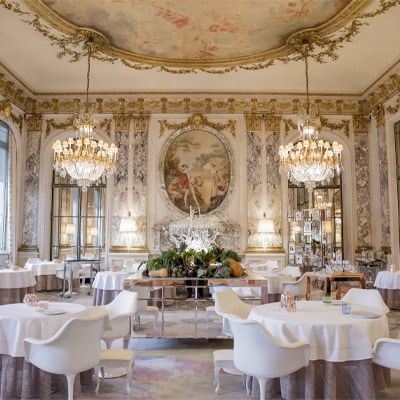 During your stay, you will have the chance to appreciate all the finery of dishes crafted by chef Alain Ducasse or enjoy a cultural experience in the heart of the City of Light (a variety of options are available to you).

From the terrace of our penthouse suite, La Belle Étoile, you will admire a spectacular view over the whole of Paris, straight out of a painting by Monet, that extends all the way to Picasso's workshops on the Butte Montmartre via the Musée du Jeu de Paume.
Franka Holtmann, General Manager of Le Meurice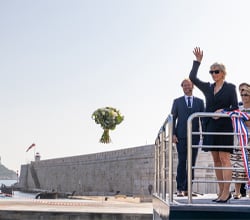 A godmother on the bridge
Franka Holtmann is the ship godmother for the Jacques-Cartier, the latest addition to the PONANT Explorers series. "The ceremony in Nice harbour was absolutely majestic. Being involved in the launch was a real privilege and an emotional moment!" The event marked the culmination of a partnership that started a few years earlier when, in 2018, Franka was invited to join the PONANT supervisory board.

PONANT is a very inspiring company which is committed to its social responsibilities.
Le Commandant Charcot takes the dream to the next level. It gives voyagers the chance to have an exceptional polar exploration experience while getting the sense of peace and comfort they can expect from a luxury hotel. The service is meticulously orchestrated but still leaves room for improvisation so that every request is catered for and travellers can enjoy each surprise the voyage has in store.
Franka Holtmann, General Manager of Le Meurice
Before and/or after your cruise from and/or to:
Tromsø, Lakselv, Narvik, Kemi, Saint Pierre and Miquelon and Longyearbyen.