Highlights - Madeira
When travelling to Madeira, people mostly visit the archipelago's two inhabited islands: Madeira and Porto Santo. There are so many things to do, including trying the local cuisine, hiking and going on boat trips. Use this guide to find out what to do in Madeira!
Read more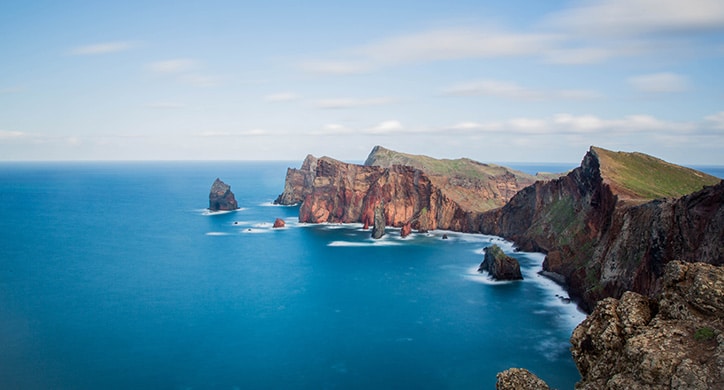 Essential - Madeira
Gastronomy, culture, legends... Below is a little guide for anyone curious about a trip to Madeira!
Read more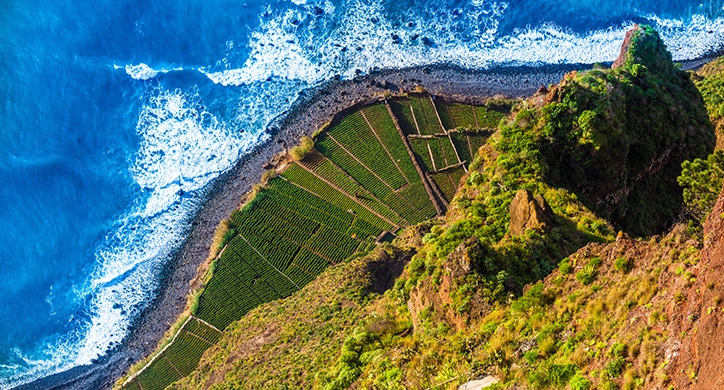 Explore Madeira
Highligts - Madeira
hen travelling to Madeira, people mostly visit the archipelago's two inhabited islands: Madeira and Porto Santo. There are so many things to do, including trying the local cuisine, hiking and going on boat trips. Use this guide to find out what to do in Madeira!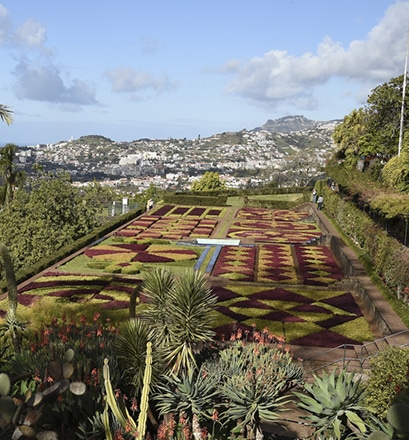 Take things slowly in Funchal
Sitting proudly in the south of Madeira, the capital of the Portuguese archipelago is a peaceful haven in the middle of the Atlantic. Delights include wandering around the muddle of alleyways in the old town, exploring São Tiago Fortress (built in 1614 to offer protection from pirates) and walking along Rua de Santa Maria with its houses featuring doors painted by different artists. If you want some hustle and bustle, there's nothing like browsing the amazing colourful stalls at the Mercado dos Lavradores. For a calmer experience, the Sacred Art Museum has an interesting collection of Flemish and Portuguese works. However, the real magic happens at the Monte Palace Tropical Garden. The garden is home to a variety of native flower and plant species, as well as lakes, fountains, pagodas and azulejo tile panels creating a charming panorama... And the view over Funchal Bay is breathtaking!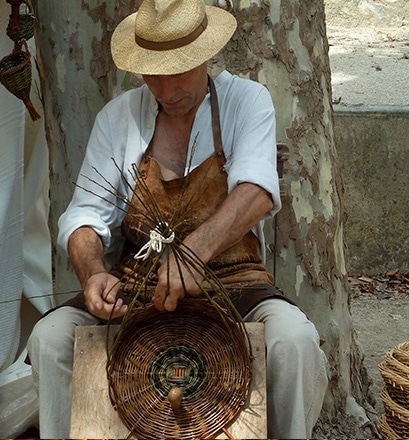 Discover authentic know-how
Madeira is not only famous for its wine, but also for its wickerwork. In Camacha — the biggest village in the middle of the island — there are several workshops that make a range of handcrafted pieces. Producing furniture, pieces of decor, baskets, hanging baskets and more, these incredibly creative artisans continue to use unique traditional skills. These pieces make excellent authentic souvenirs. By buying them, you are also helping promote local production.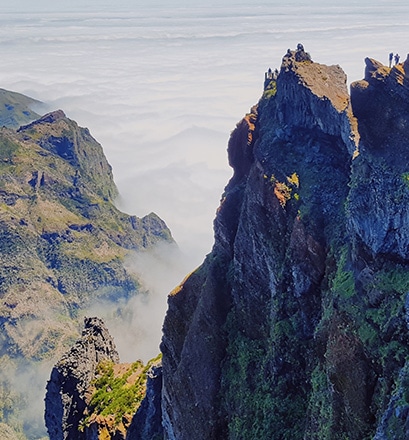 Enjoy stunning views
Standing at 1862 and 1818 metres respectively, Pico Ruivo and Pico do Ariero are among the three highest peaks in Madeira. When the weather allows, the views from the Poiso Pass (1413 metres) of these two peaks really show you Madeira's craggy and volcanic terrain. Seasoned hikers will definitely want to climb them, ending up above the clouds.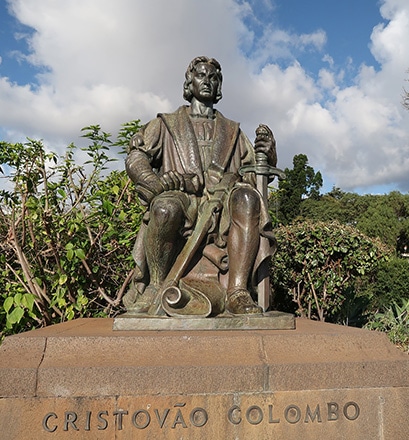 Follow in the footsteps of Christopher Columbus
Every traveller knows the name "Christopher Columbus". But on Porto Santo he is especially important. In 1478, before he became a famous explorer, this merchant sailor was attacked by pirates. He took refuge on Porto Santo, where he met the daughter of Bartolomeu Perestrelo: the island's first governor. Rumour has it that during the few years Christopher Columbus spent in the Madeira archipelago he had the idea of crossing the Atlantic to reach the Indies. With the King of Portugal refusing to grant his request, Columbus went into exile in Castile. However, Porto Santo still celebrates him during an annual festival and with a collection of items on show at his former home.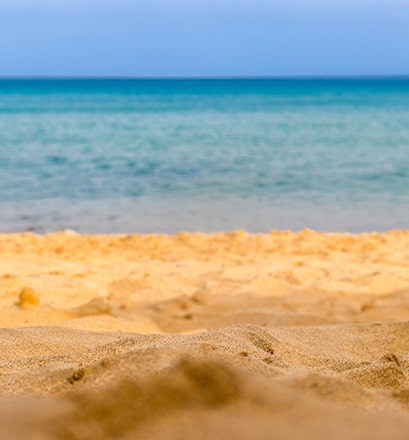 Hike on Porto Santo
Porto Santo is completely different to Madeira, with more arid landscapes. However, nature still has a good few surprises up its sleeve! The best option is going hiking to see them, especially as this "golden island" has several hiking trails which lead to the two peaks, Picho do Facho and Pico do Castelo, and have amazing views of the surrounding area. This is an opportunity to appreciate the fantastic fine-sand beach for which Porto Santo is also famous.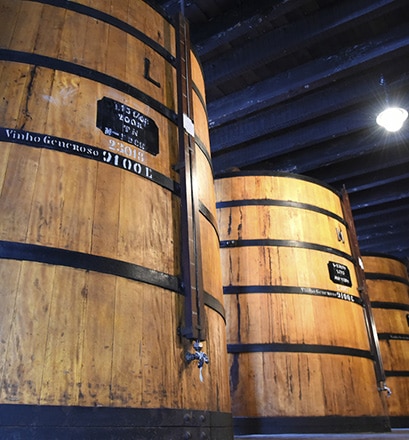 Visit a winery
Madeira wine has a proven reputation. For 200 years, the Blandy family have been one of the pillars of the tradition, working the land and ensuring the quality of Madeira wine. Winery visits begin with the traditional quinta — property typical of the 19th century — with gardens planted with flowers and centuries-old trees from all over the world. They continue with a tour of the vineyards, the barrel-making unit and explanations about the wine-making process that takes place in enormous vats made of Sri Lankan lemonwood. Finally, there is a tasting session. This provides an opportunity to try new flavours.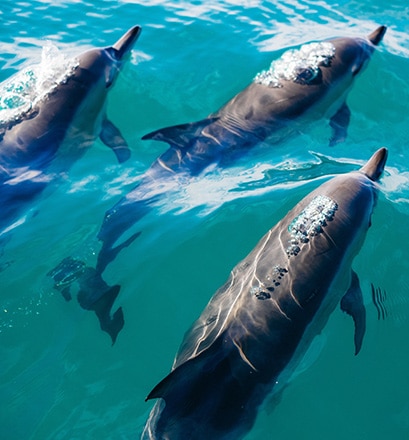 Watch whales and dolphins
For many people, watching dolphins and whales off Madeira is a must. The archipelago is a good place to see the cetacean "ballet" as it is on their migration routes. Since the 80s, the Portuguese government has imposed strict laws to protect marine animals around Madeira, making it a real sanctuary for short-finned pilot whales, bottlenose dolphins, Atlantic spotted dolphins and common dolphins. There's nothing better than getting on a speedboat and letting these curious animals approach!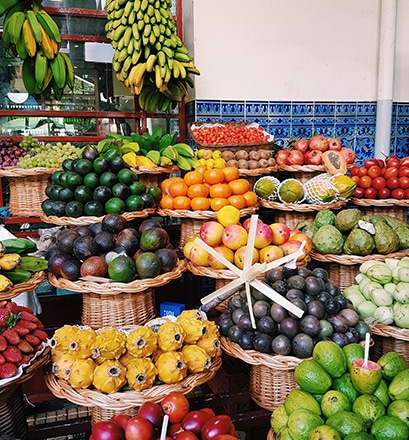 Try local delicacies
Madeira's surprising cuisine includes swordfish, tuna, black scabbardfish, beef kebabs, sweet potato, maize, bananas and exotic fruit. With a mix of Portuguese and African influences, it includes a variety of meat and fish skilfully prepared to make recipes often combining sweet and savoury flavours. There's no better way to really appreciate the breadth of Madeira's gastronomy than a cooking lesson with a local chef. Visit the local market in Funchal to stock up on ingredients before heading to the kitchen, slaving away at the stove, then tasting your creations.
Essential - Madeira
Gastronomy, culture, legends... Below is a little guide for anyone curious about a trip to Madeira!

Unique features
A wicker sleigh thunders down a steep road with two unhurried tourists on board... It's quite a sight! These wicker toboggans known as Carinhos are now an unusual attraction for travellers, but in the 19th century were an actual method of transport. They enabled people living high up in Monte to quickly come down the two kilometres separating them from Funchal. These "luges" can reach 50 km/hour.

Essential phrases
Hello/Good evening: Bom dia / Boa noite
Goodbye: Obrigada(o)
Welcome: Bem-vinda(o)
Excuse me/Please: Com licença / por favor
Thank you: Obrigada(o)
Yes/no: Sim / Não
How are you?: Tudo bem?
Very well, thank you, and you?: Tudo bem e consigo?
My name is...: Chamo-me...

Gastronomy
Swordfish, seafood and enormous beef kebabs are firm favourites. The simpler but equally typical bolo de caco is eaten at every meal and even as an aperitif. This is a flat round bread with dough made using sweet potato for a creamy finish. People put on garlic butter or garnish it like a sandwich with cheese, ham or chorizo.

Myths and legends
Legend has it that Madeira was discovered by a crew whose ship was adrift after a heavy storm. On board was a young English couple who had fled after the young woman was promised to another man. This woman did not survive the storm. Her companion buried her in the trunk of a huge tree, in front of which he planted a cross. A few years later, when the Portuguese took over the island, they found the grave and built Madeira's first chapel, the Senhor dos Milagres Chapel, in situ. It can still be seen today.

In the spotlight
Why are there so many Flemish works (paintings, sculptures, altarpieces) in Maderia? In the 16th century, the "Flower Island" was famous across Europe for the quality of its sugar, which was sold at premium prices. The Portuguese exported sugar to Antwerp and Bruges, where the Flemish School was in vogue. Following trips to deliver sugar, merchants brought back many works to decorate cathedrals, churches and quintas: traditional farms owned by wealthy landowners.

Culture
Books. Named by critics as the best poet of the second half of the 20th century, Herberto Helder was born in Madeira's capital Funchal. He moved to Lisbon in 1946 and wrote The Continuous Poem (O Poema Contínuo) and The Steps Around (Os passos em volta): works considered giants of Portuguese literature.
Music. Portuguese fado is recognisable thanks to its melancholic tunes and can be heard on Madeira. However, the archipelago's music is unique in a few ways. One is that it uses string and percussion instruments during romarias: religious processions put on to honour different saints. Music is found all over Madeira.
Madeira's Laurisilva Forest is 90% primary forest and the biggest laurel wood in the world. It was made a UNESCO World Heritage Site in 1999 and is home to many native plant and animal species.